The X2 Standard Issue, commonly referred to as the "X2" is a pistol used by WATCH officers regularly. It has a magazine capacity of 6 rounds, and seems to be highly expendable according to the ingame description based on context. Adding onto that, according to the ingame description it requires low maintenance.
The X2 is a low-maintenance weapon that would be prudent on the rain-soaked streets of ND for any Watch patrol. They are commonly carried by Watch officers, especially riot teams.
The X2 also has a safety module that is programmed into every Watch-commissioned edition. Every pistol is programmed to only fire when a Watch officer pulls the trigger due to microsensors in their gloves. Of course, decommissioned, hacked, and copied pistols will not have this safety module.
The X1 Standard Issue, the predecessor to this weapon, was entirely black and looked more like the M11. It also did not have the safety module built-in, leading to lots of street fighting with Watch officers. As of the X2's introduction, the violence rate has been reduced.
Additional Details & Pictures
The X2 is the 2nd cheapest item in the WATCH requisition area as of the Riot Update, beaten only by the baton.
The X2, for unspecified reasons, holds a magazine of only six rounds. This pattern is often seen with all other handguns in the game, none of which have a capacity over six, this could be because of a possible restriction or law in place that limits handguns to the aforementioned capacity, or is part of the gun's design itself.
The X2 most likely uses 9 millimetre parabellum rounds.
Pictures
Exhibit A : The in-game description of the X2, and the price tag.
Exhibit B : A close up of the X2, being held by a standard WATCH officer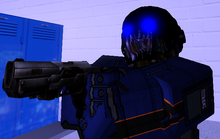 Community content is available under
CC-BY-SA
unless otherwise noted.