The VEC Standard issue, or simply VEC is a Sub-Machine Gun used by most WATCH officers. It has a 15 round magazine capacity and seems to be a retextured ROBLOX Kriss Vector mesh. Compared to it's real life counterpart, the VEC has only a 15 round magazine, compared to 17 round, and 25+ magazines. According to it's ingame description the VEC seems to be uncommon due to firearms of this size lacking mobility. But due to rising tensions with the Syndicates the extra firepower would benefit WATCH.
The first prototypes of this small arms appeared in 2014 and their serial production was started by American company Transmechanical Bastion Industries, Inc. (TBI), which was later renamed VEC USA Inc, in 2019. First weapon were used on military service up to 2027 but over the time it underwent many improvements for maximum efficiency in close contact conditions and soon entered the service of security companies. In addition to Watch (VEC) and Military (VEC-C) models, models for the civilian weapons market were are also produced - a self-loading (VEC-PCF) carbine are based on the VEC submachine gun. Currently the civilian version of this submachine gun has been retired from weapon arms trade due to illegal replacement of weapons parts to use 9x19 SAP (Carabin armor pricing) ammunition instead of 9x18 SCS (Civilian usage) and 9x18 HVE (Military and security usage).
The standard complectation of the submachine gun contains a foldable butt, two sight options (Holographic and Thermal imaging scope) on the rail, foldable grip and a standard magazine for 15 rounds. An enlarged capacity magazine of 18 is used by military units and is not massively distributed due to its compactness. Some illegal versions may came with underbarrel 12-gauge shotgun instead of grip.
Additional Details & Pictures
The VEC obviously seems to be a retextured Kriss Vector with a holographic sight and a grip, however this hasn't been confirmed by Inf the developer of neon district yet.
The VEC, like all firearms has to be reloaded whenever you re-equip it to fire.
The VEC used to be named the "VEC-12" hence this article's previously outdated name
The Description refers to it as a rifle but the american-made Kriss Vector is a Sub Machine Gun.
Pictures
Exhibit A : A close up of the VEC being held by a WATCH officer, on the left side of the firearm you can see the label "WATCH" in blue text inside of a white square.
Exhibit B : The ingame description, with it's price tag.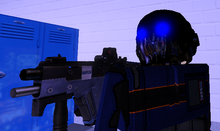 Community content is available under
CC-BY-SA
unless otherwise noted.