The Shiguto Apartments are premium apartments of the price of 599 E-Cash. They are number of 2, to find them, turn left after the spawn and turn left at the door, you will find the guide, a phone and a lift. By taking the lift, you arrive on the second floor where you can rent an apartment. If you want a higher apartment or just this one is locked, take the stairs. The shiguto apartments are smaller than the Executive apartments even if they have the same price (the EAs reduced from 800 to 599 E-Cash). They contains two computer/terminal, a living room, a bathroom, a bedroom (not king-sized). They are some of the most voluptuous residences one in the district can get- those who are forced to reside in the less luxurious apartments and slums often regard the residents of Shiguto "rulers in hell".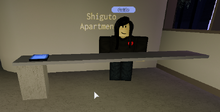 Community content is available under
CC-BY-SA
unless otherwise noted.