T
h
i
s
p
a
g
e
i
s
u
n
o
f
f
i
c
i
a
l
l
o
r
e
.
N
o
n
e
o
f
t
h
i
s
i
n
f
o
r
m
a
t
i
o
n
i
s
c
a
n
o
n
t
o
N
e
o
n
D
i
s
t
r
i
c
t
.
General Information:
" Securing your World "
Lore Overview
Origin
Issac Hertz, the founder of Phalanx Corporate Security had a rough start on the foundations of the company. Small businesses were already at constant risk of being brought out. Large businesses that saw opportunity inside of companies would stop at nothing to take power, and absorb it. This was originally done by offering a certain amount of money to the company for a percentage, usually done at a strategic time, such as when the company was going through a tough sales season. If this did not work, corporate espionage was usually next in line, and was quite a dangerous weapon. At the time of the founding of the company, Phalanx was known by the official title as Gruppe Sech Financial Security. This was due to the extensive work that was done with financial institutions. At that time, North America had many banks that were integrated on the federal level. As time went on, the market was set loose and corporations started growing without regulations to keep them in check. They spread all over first world countries, as each nation opened up its market to stay up to date on the levels of technology and service. This allowed corporations to privatize as many aspects of life as they could possibly profit off of. Phalanx thankfully kept with this trend, allowing themselves to branch out from normal money transit security, and officially grounded themselves as a company with a new and improved image, Phalanx - Corporate Security "Securing your World"
Growth
Phalanx expanded into these new avenues, proving to be reliable and there to do the job. Phalanx also went into the manufacturing market for security products, which to this day are the most efficient and advanced on the market. In addition, Phalanx started manufacturing firearms and equipment in order to keep expenses down, but has bought  from other manufacturing corporations like Lazarus International at times. One of the most significant changes was the changing of the normal security guards, into trained security professionals that would respond to calls from fellow corporations, taking the place of law enforcement agencies, and proving themselves more effective and reliable. With the expansion into the corporate world, Phalanx was reorganized by the current Chief Executive Officer - Keith Stanford. Under his rule, the structure of the corporation was reworked, along with the appearance of high command. While making Phalanx's appearance and purpose clear. Operational Headquarters were spread throughout North America, Including areas on both sides of the continent, and in between. Phalanx works on a basis controlled by more than money however. Working with corporations that focus in cybertech, medical, and scientific fields allow Phalanx to have advantages in terms of manufacturing and access to certain technologies not available to the average corporation. It is worth noting that most corporations, including Phalanx, do not always demand payment for establishing and maintaining their services. The corporation may take non-monetary compensation, including a hand in local policy making, land and real estate, or shipping and free port rights, or it may reap other advantages such as complete police and security control of an area near sensitive corporate facilities. Stopping the battle before it starts is a keen strategy where money is the biggest asset. Phalanx uses contracts to gain edges where it sees fit.
Neon District
It's not exactly clear when Phalanx Corporate Security started deploying to Neon District, but many corporations in that area will pay top dollar for real protection, allowing the area to be profitable. Phalanx Corporate Security can often be seen in the district at financial institutions like Econo-Smart or scientifically focused businesses like Amery International.
Employees
Citizens that are recruited for Phalanx Corporate Security are put through defense classes on hand to hand combat, and firearm proficiency courses. They also undergo a physical and mental course to see if they are fit enough to become security professionals. Lastly, personnel are put through psychological conditioning tests to make sure that they make the right choices when deployed to the field. If the personnel pass all previous exams and tests, then they are graduated to an Initiate. From Initiate, can complete their tasks with proficiency to become recognized, and eventually become a Contractor. Personnel can do the same thing, showing subordination to officers, and they will eventually become a Specialist. At this stage, the personnel have options. They can apply to one of three specialized units. These units are - The Medical Unit, The Bomb and Chemical Threat Unit, and the Combatant Unit. The Combatant unit is for personnel that are proficient in combat and can keep their head on in dangerous situations. The Medical unit is for those who have the know-how to perform field first aid on personnel or employees of the business on current contract. The Bomb and Chemical Threat Unit is for those who can handle dealing with explosives, specifically disarming them. If the personnel chooses, they can proceed as standard personnel to attempt to join another Unit, as they become a Sergeant, more options open to them. They can attempt to become a member of the Phalanx Sharpshooter unit, or they can aim to become a Corporate Officer. Corporate Officers are the top of the line within Phalanx, and lead the deployments in the field. When personnel become corporate officers, they go through a second training, to make sure that they are capable to take a leadership position. If the personnel chooses, they can continue their duties and become an Operator, which is the highest rank that standard personnel can achieve.
Services
In the world of 2042, where corporate mugging and robberies are an everyday thing, the old coffee-drinking night watchman or the counter guard is truthfully inadequate. A corporate security force means having quartered forces in place, capable of repelling assaults, extractions, and attempted industrial sabotage, with rapid response and combat capabilities. Not all corporations or groups have the power, money, or spirit necessary to form their own security groups. The alternative, if these groups want to stay afloat in the stormy seas of modern competition, it is to hire these forces from a third party. Phalanx is not the only company that offers this service, but it is one of the largest and most reputable. PCS security personnel are reputed to be some of the best trained and equipped that can be found on the market. They are not cheap, but the investment is generally considered profitable. The service is twenty-four hours a day, and the guards can be accommodated, at the discretion of the contractors, privately, on site or in the local offices of Phalanx. All PCS guards are fully trained in security procedures, equipment handling, and urban combat, armed and unarmed, at close range. Depending on how much the contractor wants to pay for each guard, there are various levels of weaponry and specialization available, from unarmed counter guards to fully armed and armored rapid response combat gear. In addition to supplying trained personnel to corporations, groups and individuals, PCS also leases and sells the security equipment that it manufactures. Typical items include cameras, perimeter detection and surveillance equipment, computerized security offices and networks, fire extinguishing systems, and computerized personnel access systems. Also available are more exotic items such as weapons and bomb detecting equipment, booby traps and other "lethal deterrence systems". Phalanx Corporate Security also contracts out security consultants. If you want good security run by in-house people, but you don't know what the best way to implement it would be, you can have a team of Phalanx Corporate Security Consultants inspect your facilities, and do an analysis of the capabilities of your potential enemies. The consultants will use that information to make a recommendation on the type and strength of the security forces you should maintain, and the kinds of equipment and countermeasures you should install. Consultants will operate on any scale, from personal body guarding to worldwide corporate protection.
Development
The V-SA6 "Intruder"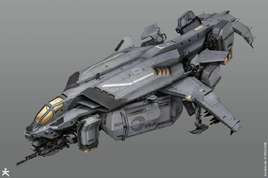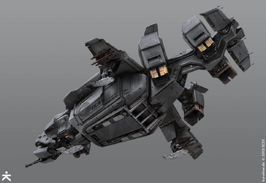 In the aftermath of Operation Vault and Operation Swift Dawn, Phalanx Corporate Security called for a more durable and offense-capable VTOL dropship, which they would later call The Intruder. The reason for this development was because of the high loss of personnel at Operation Vault. In order to efficiently save lives, and profits for that matter, this aircraft began development immediately after these operations.
The product would be a Heavy VTOL type aircraft for carrying personnel efficiently and in high numbers. It would also need to be very versatile and quick for any situation that G6 needed. The designation of Heavy VTOL comes from the fact that it is heavily armed with machine guns, missile launchers, and heavy armor. It is capable of deploying ziplines so that the personnel can land on the ground while the VTOL remains in the air. The Intruder has a large 20mm (Standard) chin-mounted autocannon, and its wings can change from acting as control surfaces that aid in forward flight to landing struts while hovering or in preparation for landing. The pilot sits in a forward position in the cockpit, isolated from the cargo hold. The co-pilot sits in the cargo hold area so that they can provide a quick mission briefing for the personnel, as well as providing fire support if the situation arises. The cargo hold itself is large with ample space for about 18 - 20 (not including supplies or the pilots) and the seats in the hold fold up to the wall in the case of transporting cargo.
The cockpit, which incorporates four Multi-function displays (MFDs, compatible with night-vision goggles) and one shared Central Display Unit (CDU), to display various images including: digimaps, imagery from the Turreted Forward Looking Infrared System primary flight instruments, navigation (TACAN, VOR, ILS, GPS, INS), and system status.
There are more Development projects available on the Phalanx Discord
Security Systems
The R-5DM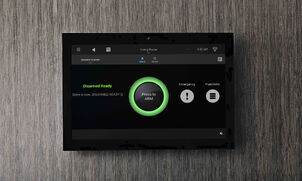 These systems specialize in contacting the authorities if you have a security breach, and you aren't available to contact them yourself. They are very useful for business owners that want complete coverage in their very busy lives. This is no ordinary response system, the process has been improved and overhauled for unmatchable response times and specific instructions to your responders that will give you the edge you need to stay ahead of espionage or theft.
First, any triggered sensors or cameras will immediately alert your alarm mainframe. Usually, the mainframe will wait between fifteen and thirty seconds before sending a notification to the alarm company, giving you time to disarm the system if you accidentally tripped it. Though these parameters can be modified. A dispatch operator will then be notified.
When the monitoring center receives an alert, an operator will then respond based on your custom protocol. In some situations we will first try to contact any corporate staff on the property to confirm there's an emergency. Other times we will contact the authorities, or send a Phalanx Armed Response (PAR) and contact the staff at the same time.
From there, you can either have a peace officer come, which can have unreliable results or you can upgrade. if you decide to upgrade your system to contact the Phalanx Armed Response (PAR) units. These units are highly trained security professionals, and will make sure to keep your business safe in the event of an emergency.
This system gives you a perfect opportunity to customize and set your personalized system to however it suits your needs best. Don't miss the opportunity to keep the future of your business secure.
There are more products available on the Phalanx Discord
Contact Information
The Phalanx Corporate Security Discord:
Community content is available under
CC-BY-SA
unless otherwise noted.