Lore
In the year 1992, two Englishmen, Charles Lates and Jordan Raux created a company known as Midland Railways, with the HQ in Morecambe Bay. They were both friends who had been fanatics of trains, and finally were able to create a company themselves. Unfortunately, Midland did not launch very well in its first few years. Not many people rode their trains, and manufacturing was expensive. Sometime in 2012, Midland was near bankrupcy. The Waterfront Supply Company bought the company, but allowed it to remain independent. 8 years later, in 2020, the company was almost put out of business, due to Covid-19. Lates died from the virus, and Raux left because of this. New management took over. The company now operates in Neon District, Zaibatsu and many other places. Their current financial state is stable, but definitely not the best.
Developments
Midland Railways manufactures trains, but don't mainly do this as they do not focus on manufacturing itself. One of the most notable trains is the Series 1500 Raux, a luxury train meant for executives.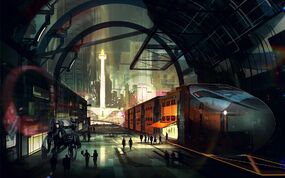 Contact info
Community content is available under
CC-BY-SA
unless otherwise noted.